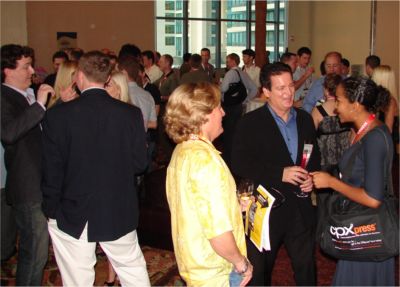 We've all worked a room at a cocktail party. We eye the people we want to talk to and the ones we want to avoid. We scramble and queue up near the ones we really want to engage with. We listen and we add value to the conversation and we exit gracefully out of boring conversations or that have nothing to offer by going to get another drink or more food.
Now you might be scratching your head at this point wondering how social media resembles a cocktail party, especially when it comes to your hospitality marketing message. "You don't walk into a room with your megaphone blasting your marketing message and saying 'buy my stuff'," said Jason Falls, CEO at Social Media Explorer, LLC. "Doing so would mean alienating your fellow party guests. Instead, you listen to conversations and find the ones that make sense to you and introduce yourself, network, and grow relationships over time."
Dovetailing off Jason's comments, I am going to compare a great cocktail party to a valuable social media strategy.
A great cocktail party has a lot of interesting and diverse people at it.
Social media has many interesting and diverse ways to start a conversation and keep it going with the people you are interested in conversing with. Just like a cocktail party, you need to navigate around and spend time with the people that are going to be booking hotel group business. The important factor in all of this is to find out where your prospective clients are spending their time.
A great cocktail party has a fabulous host.
Good hosts knows their guests and make connections with people who should get to know each other. They get the conversation going and then they bow out to attend to other guests with other needs. Are you helping people make connections? Building your own LinkedIn connections, Twitter followers, and Facebook friends will help, but taking it a step further and putting the right connections together, can assist in relationship building especially when marketing towards group travel. Connecting an association with an AV company, florist, photographer, and caterer can make their job easier and build up your own value.
A great cocktail party has a plan when things go wrong.
The host has a plan for when the food is cold, the band is late, or the guests are bored. They read the room and respond quickly and appropriately. So it goes with social media. Negative comments are bound to occur on places like TripAdvisor and Yelp, but it is how the hotel management responds to those complaints that can make a huge difference. It shows event planners that you care and can actually help your cause when marketing for hotel group business.
A great cocktail party has a beginning and an end.
Most cocktail parties do not go on ad infineom. They start at a certain time and wind down about 2 to 3 hours later. Same with social media and your staff's time on it. Social media doesn't replace "pounding the pavement" when marketing for group travel. It is something everyone in the organization should spend some time on every day, whether it be 15 minutes to an hour. Remember, part of the process is listening to the chatter on the Internet and then focusing on what to speak about and when to speak.
Join Cvent's LinkedIn "Cocktail Party" for hospitality professionals and start meeting new people!